Scottish native? An exile, perhaps marooned elsewhere in the currently United Kingdom? Living far out there in the real world but with Scottish antecedents? The desire to visit parts of Bonnie Scotland can be a powerful one. Fight strongly against it! Time you knew the truth about some of the myths, especially about the Wild West (Highlands) of this bedevilled land. Let's spill the beans about some treasured jewels in Scotland's crown – by-the-by it's actually kept elsewhere…
1. Ben Nevis
Yes, the highest mountain in the British Isles – but that just means it's a bloody big climb. And, my it looks pretty in the moonlight, although your fingers have just dropped off with frostbite as you tried to take a picture, which might slightly inconvenience you for the rest of your life. Serious climbers love it. But try to get one of them to buy you a drink – good luck, they have crampons on their wallets and purses! Mind you, there is always the Ben Nevis distillery.
Read about Ben Nevis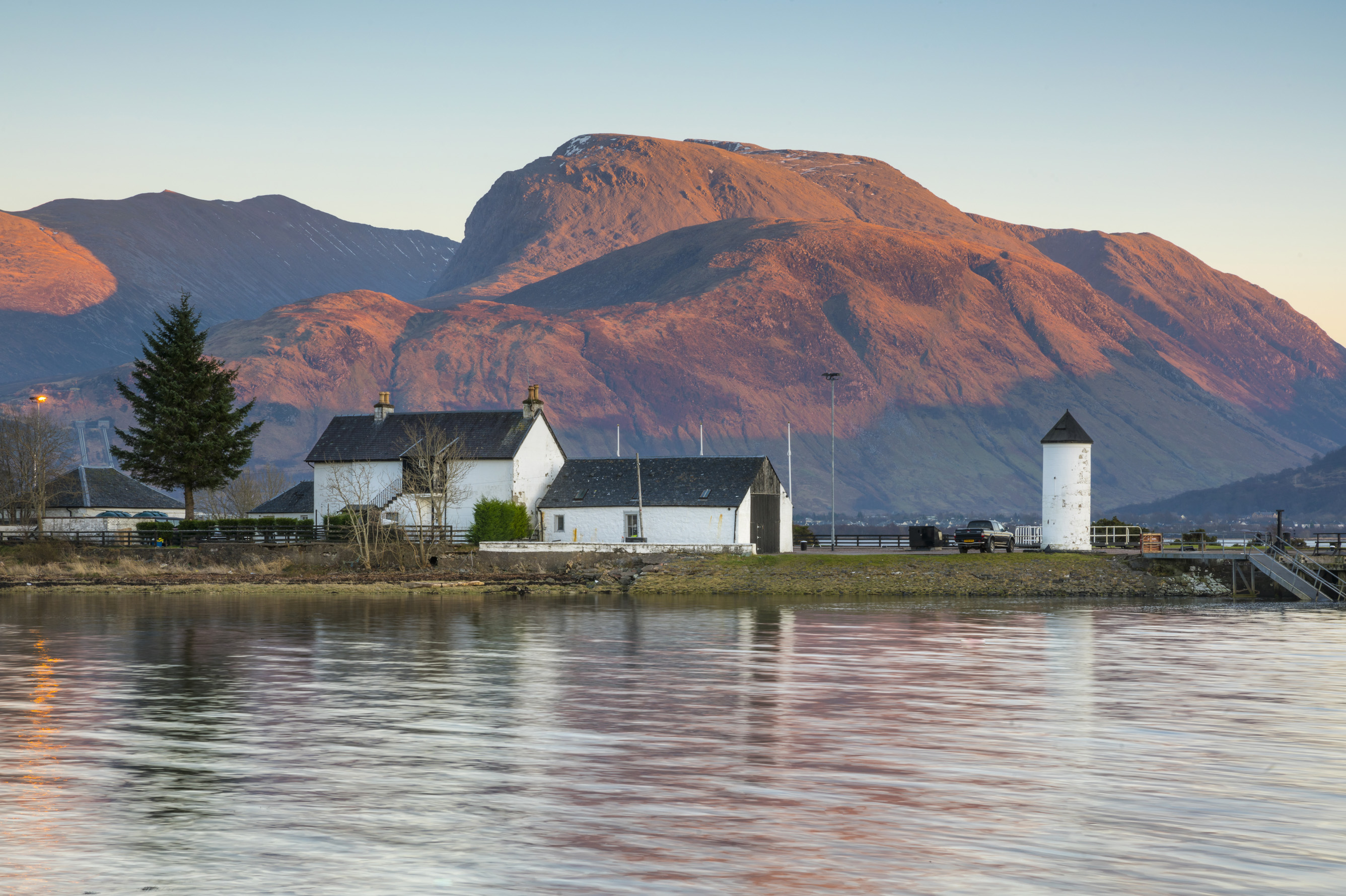 2. Nevis Range Mountain Gondola
Who doesn't want to float across a crystal-calm loch on a flat-bottomed boat, steered by a handsome young Italian… What? A cable car taking you right up that damn mountain? Well, Scots do like to be as far away from each other as possible! Okay, yeah, stunning panoramic views, clear mountain air at over 2,000 feet, only such system in Britain, great for skiers and climbers, but who's going to sing arias to us as we go?
Read about Nevis Range Mountain Resort
3. Caledonian Canal
Sixty miles thrilling of man-made canal (if that floats your boat) plus four lochs, the last of which is innovatively called Loch Lochy. So, taking their lead if you must, you can Caledonian Canaly yourself by cruise ship, barge, even canoe. Locals usually just walk on the water, and studiously ignore all that mind-blowing scenery…
Read about the Caledonian Canal
4. Jacobite Steam train
Apparently, the Jacobites, whose aim was to restore the Stuart kings to the throne in the 18th century, must have travelled to their battles by steam train. Today's version takes you from Fort William out to Mallaig. Thankfully it also brings you back! By the way, if you see a small, mustachioed Belgian detective on the train, you've probably just enjoyed too much whisky flavoured shortbread for breakfast!
Read about the Jacobite Steam Train
Image Credit: Steven Feather
5. Old Inverlochy Castle
How did they know to call it 'old' when it was first built over seven hundred years ago? It has lots of history, and battles, blah de blah. Queen Victoria visited once; probably when she reached that decision 'not to be amused' by things. Best to avoid people using words like 'keep', 'portcullis', 'moat' and especially 'enceinte'. Don't even nod, they're just showing off.
Read about Old Inverlochy Castle
6. Glenfinnan Viaduct
The Jacobite train above rumbles over it, it's almost 400 metres in length, 100 feet high – and probably doesn't even sway in a highland breeze. They knew how to build 'em a century ago; but how they also realised it would be needed for Harry Potter and Ron Weasley to swoop under in an old Ford Anglia is more impressive. Sorry, obscure film reference there.
Read about the Glenfinnan Viaduct
7. Glenfinnan Monument
Towering (get it?) above Loch Shiel this is in remembrance of the unsuccessful Jacobite uprising of 1745 and many native and ex-pat travellers do find it a moving memorial to visit. Scots have long given up crafting monuments to unsuccessful campaigns. Just as well as you wouldn't even be able to see Hampden Park for them!
Read about the Glenfinnan Monument
8. Commando Memorial
Set close to Spean Bridge, this is a place of such pride and remembrance to so many, no jokes from us about this moving monument to great sacrifice. Besides, who'd be daft enough to annoy any Commandos – past or present?
Read about the Commando Memorial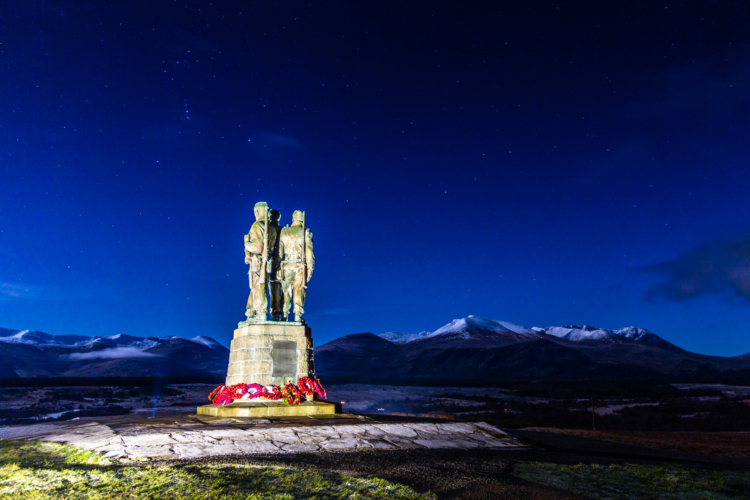 9. West Highland Way
Apparently, if you happen to find yourself in the Milngavie area of Glasgow, want to go to Fort William, but are too mean to hire a taxi or take the train – you can walk the whole way! The West Highland Way to be precise – a hundred miles of, well, walking. Okay nice scenery, such as Loch Lomond, Rannoch Moor, Glen Coe and the like, but there will be weather. Lots of weather. And please don't take your boots off in our presence when you reach Fort William. Stinky socks!!
Read about the West Highland Way
Image Credit: Pierre-André Dalcq
10. Ben Nevis Distillery
Well, who in their right mind would want to visit a distillery that's fast coming up to its bicentenary; one that distills products such as a superb 10 year old single west highland malt; offers special blends; all using superb clear water from two small lochans? Hello? Anybody there? Where on earth have all our readers suddenly disappeared to…
Image Credit: Annalise Tindal
11. Glen Nevis
Okay, the name sounds a bit like a local singer in a Fort William bar, but this actually refers to the scenic glen beside the town. Warning: your peaceful stroll might be disturbed by some Hollywood superstar filming their next epic. So it certainly takes a Braveheart to wander this area; and it's not a good idea to start laughing at any attempts at Scottish accents you might hear! It's also host to the famous Steall Falls – sounds like the singer's backing group…
Read about Glen Nevis
Image Credit: Alister MacBain
… if you don't have a head for heights, and if this is the case, what is it about the word 'highlands' that you didn't get, these are the Lower Falls. Crashing waterfalls, no toilets in sight, huge boulders to contemplate – what's not to love about this spot…
Image Credit: Delboy1940Essex
… and this is a sign for Dun Deardail, described as 'A Desirable Residence in Glen Nevis' – well it would have been a couple of millennia ago. The posh name for this crude stone enclosure is a vitrified fort, usually offering strong defensive positions. An unknown concept for Scottish football teams in Europe.
Image Credit: Bob Berch
12. Loch Ness Monster
Judging by the lack of recent pictures, she hates selfies and mobile phones, but Nessie definitely possibly exists. Even if we told you she didn't, you'd still turn up on the shores of Loch Ness to eagerly photo some driftwood. Here is an accurate artist's impression of this genuine mythical creature…
Image Credit: Sarah Grace
13. A wealth of exciting animals
Offering exceptionally hairy cows and proud stags (of the non-human type), lots of deer people just love the wildlife of the Fort William area. Do take time to enjoy the wafting clouds of gentle midges who welcome visitors during much of the rainy season – or, as locals call it, the year. In case you don't know what a hairy coo actually looks like, here's one. Take a picture and have a fun 'guess which elderly relative this most looks like' competition when you get home…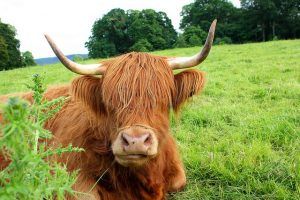 Image Credit: Marcus Ward
14. A chance for a 'seafood and eat it' joke
We won't bother, you'll already have done it. But the Crannog Seafood Restaurant in Fort William even offers loch cruises before a three-course lunch (summer evening options are available). So look out for the red roof of the old bait shed. You won't want to share the superb food with anyone else – but then it's okay to be shellfish (best said in a Sean Connery accent).
Image Credit: James Dean Shepherd
15. Watch out – bikes about!
Mostly friendly, the folk around Fort William. But, get in the way of a mountain biker on the Nevis Range trails, and you'll quickly have tyre marks from stem to stern. The area hosts a UCI Mountain Bike and Trails World Championship track and the Scottish Six Days Motorcycle Trial has been fully based in Fort William since 1977. Stand, watch, pretend you could do it.
Image Credits: Left, Helen Andrews – Right, Colin Appleyard
16. And they're just as wild on foot and on the water!
It's all William Swan's fault! A Fort William barber, in 1895 he set off on the first timed ascent and descent of Ben Nevis, probably using the short back and sides route. Now, each year, the Ben Nevis Race has 600 entrants. Don't even think about it!
Image Credit: Richard Cowan
Meanwhile, on the water, raising funds for Lochaber Mountain Rescue, the Glen Nevis river race sees competitors on lilos, and here's a technical explanation, 'scootin' doonstream like eejits'. Proof in a picture…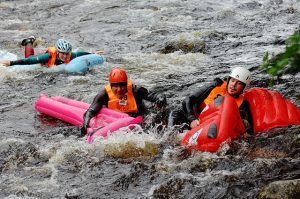 Image Credit: No Fuss Events
17. Loch Linnhe
Did you know that lochs, depending on their location, could also be called lakes, inlets, firths, estuaries, straits and bays? That exciting snippet should cause a few eyes to glaze over back home. Feel free to add that Linnhe means 'pool'. More? The upstream part is known as An Linne Dhubh (black pool), and downstream as An Linne Sheileach (salty). This will make a terrific start to your 3-hour multi-media presentation on 'Our Scottish Holiday', so here's an atmospheric picture…
Image Credit: Adrian Walmsley
And finishing up with half-a-dozen ways to get some much-needed exercise!
18. Walk those Marilyns; climb those Munroes!
Ever ascended a pun? Well, hills over 492ft are thus called, because mountains over 3,000ft are called Munros. There's plenty of either variety in and around the Fort William area. What isn't funny is folk who don't properly prepare, or use adequate clothing and footwear, tell others where they are, and when they're returning. Too often the services of Mountain Rescue are required, when actually the peaks are fine, it's the fools who are climbing them who are the problem! Here's a Munro about to suffer weather-wise, you'll see what we mean…

Image Credit: Dave Butcher
19. Fishing
This paragraph is about a thousand words long. Honest! Fisher folk would never fib. There are lochs, rivers and sea, even a canal, fishing opportunities within easy reach of Fort William. A shoal of choices for the fanatical angler or occasional pole and hook funster. Whatever you catch, you can ask your friendly hotel or guest house owner to cook for your tea. You can certainly ask…
Image Credit: Fearghàl Nessbank
20. Skiing & Snowboarding
Nevis Range – name sounds like a handsome yet windswept adventure-mad superhero. Actually that isn't a bad description of the Mountain Resort itself. The Chair Ride can take you upwards; allegedly your skills, equipment and courage can carry you back down. You'll enjoy copious amounts of après ski. We prefer, wimpishly, instead ski…
Image Credit: Addy
21. Wild Camping
Pitch a tent, lose your temper, have a ferocious family argument. An alternative method of wild camping is to get away from campsites, off the beaten track, head for remote spots. Do be sensible and follow the Scottish Outdoor Access Code. By the way, those night-time noises are definitely not marauding highland beasties. Well, not usually.
Image Credit: Peter Smith
Have we not managed to put you off yet?
21 terrible choices, even if they would make your time in and around Fort William whizz by, give you a lifetime of cherished scenic and fun memories; added to by the warmth of a Highland welcome, with terrific places to stay, eat and drink. Okay, we admit defeat, we will permit you to visit if you must. Three final things to know:
1. Not all Scotsmen play the bagpipes and eat haggis. The results would fly like missiles for up to 200 metres
2. In spite of rumours, Scots people are not mean. So tip us as generously as you want
3. Nothing is ever worn under the kilt – it's all as good as new, thank you
We guess we'll be seeing you soon…