Commando Memorial in Spean Bridge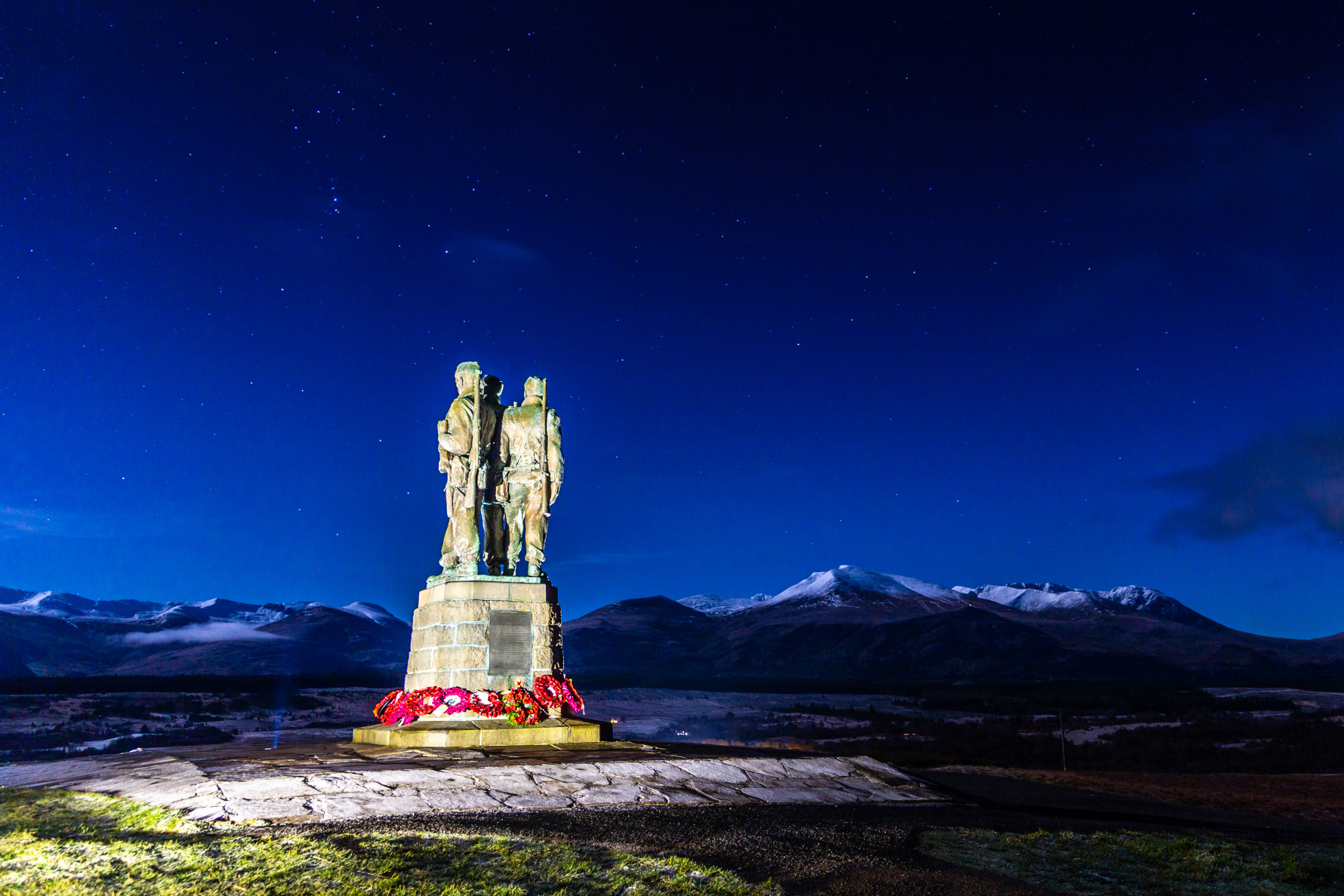 A Highbridge, a castle and an unforgettable Commando Memorial
There are many great sights to see, and terrific things to do, when spending your time in and around the Fort William area. However, there is one place which, when found, can take the breath away of those who, until then, didn't even know of its existence. For others, it is often the time spent there that forms the emotional heart of their visit to the area. The Commando Memorial stands about a mile from the village of Spean Bridge, itself just eight miles north-east of Fort William. It is clearly visible from the A82, and for those who come upon it by accident, it is a moment not easily forgotten. It is tasked with proudly guarding the memory of those truly gallant British Commando Forces from the second world war. The choice of site was particular; it overlooks the areas where the men trained, from 1942 onwards, at Achnacarry Castle. This is now one of the UK's best-known monuments, and draws folk from all parts of the world, many remembering beloved relatives or family friends. It's appropriate that the men depicted and commemorated here, and for all time, are in sight of both Ben Nevis and Aonach Mor, viewed across the River Spean valley; their peaks matching the heights of valour reached in some of the darkest times that Europe has ever known.
Scott Sutherland's vision
Scott Sutherland won a 1949 competition, open to all Scottish sculptors, for this commission. As an army man himself during the conflict, his victory was truly appropriate. The prize, incidentally, was £200. In his later Royal Scottish Academy obituary, it was noted: 'Rarely have a sculptor and subject been so perfectly matched. He had known and worked alongside the Commandos during the war and had a great admiration for them'. It also noted: 'In addition the scale was right – heroic in proportions – matching its subject'. Critics at the time approved of his decision to move away from the more abstract forms with which he had often previously worked. He also later created the Black Watch Memorial at Powrie Brae in Dundee, and the memorial to Air Chief Marshall Hugh Dowding, who was Air Officer Commanding, RAF Fighter Command, during the Battle of Britain, at his birthplace of Moffat.
United We Conquer
The Commando Memorial is a cast bronze sculpture of a trio of Commandos, as they would characteristically be dressed, including cap comforter, webbing and rifle. They stand alert, ever watchful, atop a stone plinth with these three words set into it. It is believed that the front-facing solider could be Jack Lewington, and one of the others, Frank Nicholls. A plaque on the plinth adds the words: 'In memory of the officers and men of the commandos who died in the Second World War 1939-1945. This country was their training ground'. It stands at an impressive 17 feet. Remembrance Day services are held at the Commando Memorial, as you would expect. A Garden of Remembrance has subsequently been added to the site. This has been chosen by many WWII Commandos as a resting place for their ashes. Equally poignantly, many families of those in Commando units, who have made the ultimate sacrifice in more recent conflicts, have chosen this peaceful place to scatter their ashes into a Highland breeze, or as a place for their own personal and lasting tribute.
The village of Spean Bridge and its Highbridge
The village, nestling in the Great Glen, is named for the Highbridge, over the River Spean. It was built by famed military road and bridge-builder General George Wade in 1736, although only the piers now remain. This was believed to be the place of the first Jacobite Uprising action in 1745, called the Highbridge Skirmish. A small force of 11 men and one piper, all Keppoch MacDonalds, fooled government troops into thinking the bridge was heavily defended. These forces were then reported to be chased to Loch Oich, at which place they then surrendered. By the way, if you are a visitor to these parts, here in Spean Bridge and many other villages, you might see a group of men, on a weekend afternoon or summer's evening, playing a sport that makes hockey look like a slow motion stroll. If you do, take some moments to watch the Lochaber Camanachd team in action, and be introduced to the superb sport of shinty. Nearby, marginally less strenuous, the working Leanachan Forest offers many opportunities for walkers, runners, and cyclists, to enjoy some proper fresh air!
Achnacarry Castle
Sited just 15 miles north-east of Fort William, on an isthmus between Lochs Lochy and Arkaig, this is the ancestral home of the Chiefs of Clan Cameron, whose members have lived in the Lochaber area for around 700 years. Indeed their museum is located in a stunning white cottage in the castle grounds, where legends and 27 generations of proud history can both be discovered. The original fir-planked castle was constructed around 1655 and summarily burned to the ground after the failed Jacobite Uprising of 1745. Around 60 years later, it was then rebuilt by Donald Cameron, the 22nd clan chief. Although still often titled 'castle', it was constructed as a Scottish baronial style home. Queen Victoria visited in 1873, and took a small steamer trip on Loch Arkaig. During the second world war, it is estimated that 25,000 Commandos completed their training here, including a final opposed landing exercise by Loch Lochy that used live ammunition, perhaps using captured German weapons. As well as UK combatants, many from the US Army Rangers, France, Czechoslovakia, Norway and the Netherlands were also trained. Many Commandos still see Achnacarry as a spiritual home; just as it always is for those, from any corner of the earth, who proudly bear the name Cameron.
Fitting final words
Although he died long before the Commando Memorial at Spean Bridge was built, US Civil War General Joshua Chamberlain once said: 'In great deeds, something abides. On great fields, something stays'. This could be a perfect description for this stunning memorial for the ages. It is one of the best-loved in our land, and far beyond; a truly iconic and magnificent monument that, once seen up close, will never truly be forgotten. This is why so many people feel that no visit to the Fort William area is complete without quiet and reflective moments spent beside this steadfast trio of eternal warriors.