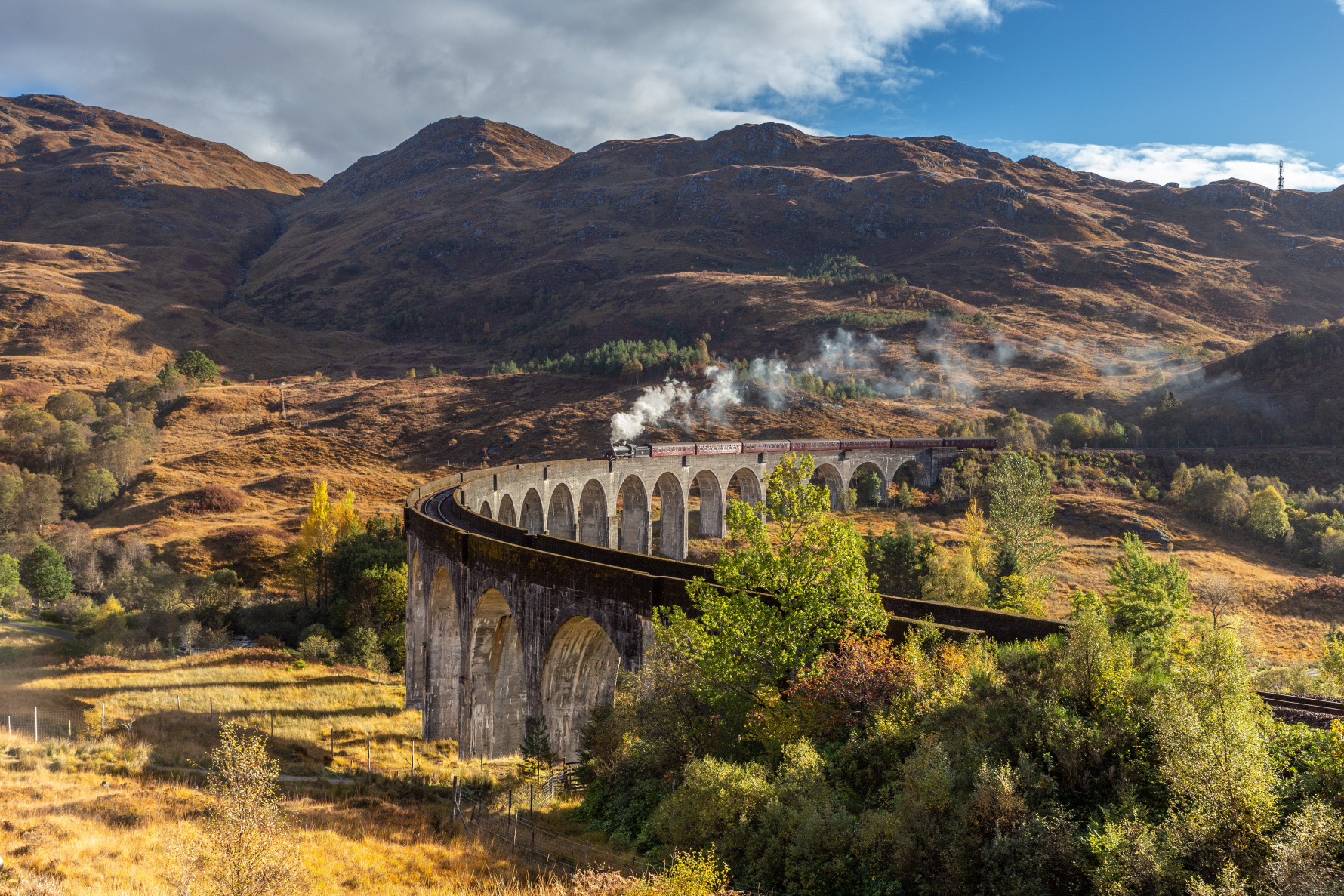 Glenfinnan Viaduct: much more than just a crossing place
Viaduct is a term for a bridge which is composed of a series of small spans that helps to cross a gorge or valley. Despite popular belief, it isn't actually an old Roman term; although it is believed to be derived from their use of the word aqueduct. Many viaducts can almost pass unnoticed as travellers make their way towards a chosen destination. This certainly isn't true of the truly magnificent span of the Glenfinnan Viaduct, widely recognised as one of the finest and surely most famous anywhere on Earth. You cross it as you head towards Mallaig along the West Highland Line from Fort William, on the standard ScotRail service. An even better visitor option is a journey aboard the amazing Jacobite Steam Train. Surely, there is no-one in the world who isn't just that little bit excited when boarding a magnificent steam train! This one offers you a superbly enjoyable 84 mile round trip to Mallaig. You'll pass close to Lochs Eil and Morar, and take in Britain's most westerly mainline station at Arisaig. Arriving at Mallaig, you'll have plenty of time to stretch your legs and enjoy this charming and friendly fishing and ferry port destination. This journey's sweep and stately grandeur simply take the breath away. So, as you return to Fort William, you'll have the chance to see so much more that might have slipped by on your outward progress.
Thanks, Ron and Harry!
Already known and admired by many travellers for over a century, it's certainly true that a certain boy wizard and his best friend made much more of the world take notice of the Glenfinnan Viaduct. Unforgettable scenes of the Hogwarts Express rushing towards that mystical location features in several of the films. The boys, swooping in and out between the pillars in a magical Ford Anglia, captivated the attention of generations of 'children' of all ages. The Glenfinnan Viaduct became a must-see part of any visit to the Fort William area. Mind you, earlier generations had already found it in films such as Ring of Bright Water and through popular television series such as Monarch of the Glen. Nevertheless, it would be churlish not to thank the boy wizards, their friends, enemies – and, of course, their creator!
A finely worked project by 'Concrete Bob'
With the West Highland Line already having reached Fort William before the end of the 19th century, it was time to extend it on to Mallaig. While Simpson and Wilson were taken on as engineers, it was Robert McAlpine & Sons who were the contractors for the Glenfinnan Viaduct. The company owner's nickname, "Concrete Bob", was due to his innovation in the use of mass concrete, which is particularly strong when compressed. He found its use to be a solution to the problem of working with the area's hard schist (metamorphic rock). The Glenfinnan Viaduct was completed by October 1898, and cost less than £19,000 to build. It was then used to transport materials across the valley for the completion of the rest of the railway line extension, which was finally opened in the spring of 1901. The Glenfinnan Viaduct features 21 semicircular spans, soaring 100 feet above the River Finnan, and is 380 metres in length. It is a mere 18 feet wide and carries a single track line.
Spending time in Glenfinnan, or Gleann Fhionghain, itself
Connor and Duncan MacLeod, stars of the much-loved Highlander franchise, were natives of Glenfinnan and it is a terrific place for a bracing walk or enjoyable bike ride. However, in Scotland's history, it was at Loch Shiel, in Glenfinnan, that Bonnie Prince Charlie raised his standard to signal the beginning of the Jacobite Uprising in 1745. Seven decades later, when the cause was long lost, the memorial tower to mark the event was erected. Upon it stands an unwavering Highlander, staring into some long past moment. The National Trust for Scotland has added an informative visitor centre and cafe to the site. Should you visit on 19th August, then you'll likely be among many Jacobite enthusiasts and their annual commemoration. The Glenfinnan Gathering, held on the Saturday closest to this date since 1946, is a traditional Highland games, set in perhaps the finest location of any. The glorious pipes form a musical background to a friendly competition.
So much to be seen from Loch Shiel
Loch Shiel is a freshwater body of water. Towards the north, it is guarded by proud mountains, towards the south and the river it is shallower and the shore can be boggy. Part of this shore is now a Special Area of Conservation. Guided boat trips on the loch help visitors to spot much of the most glorious of Scotland's wildlife, including golden and white-tailed eagles, hen harriers and perhaps even the elusive osprey, and the magnificent red deer.
Bank on an unforgettable image
You might choose to celebrate your Glenfinnan Viaduct experience with selfies and other photos, perhaps purchase a postcard or two to send onwards, maybe even a more substantial piece of artwork. The acknowledgement of this as one of the country's truly iconic images was also cemented by its use on a 2007 issue Bank of Scotland £10 note. In this country, when it's on the money, its status is fully recognised! However you choose to record your visit, time spent in the Fort William area should certainly enjoy that sweeping and memorable crossing in glorious Glenfinnan.