Nevis Range for Skiing and Mountain Biking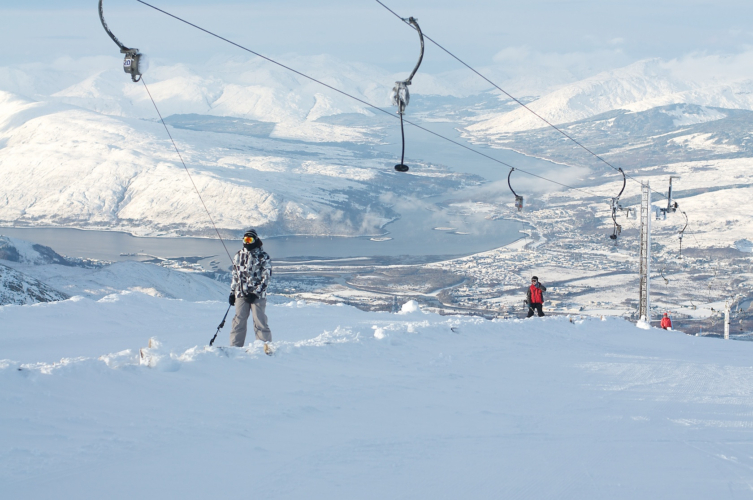 Enjoying an unforgettable Nevis Range Mountain Experience
You might have caught the TV series where adventurer Bear Grylls tasked himself to travel from Britain's deepest point to be in sight of its highest mountain. You may not have previously known that the deepest point is over a thousand feet down in Loch Morar, but you're more likely to correctly suggest Ben Nevis as the place where you can be no higher in Britain.
Most of us wouldn't be able to plumb those depths, and many wouldn't want to, but the thrill of standing on a highland peak is much more attainable. Bear Grylls chose to ascend Aonach Mor, where, at more than four thousand feet above sea level, you can enjoy stunning views of the magnificent Ben Nevis.
Creating an accessible wilderness
The Nevis Range Mountain Experience offers you this chance, and so much more. It's over 80 years since the first skiers headed onto the slopes of Aonach Mor. A reason for their choice is surely found in the English translation from Gaelic, which titles it as Big Ridge. The development of the superb Nevis Range centre itself gained official Highland Region approval in 1986 and, amazingly, used helicopters for all the construction work. It was opened to the public, just in time for the Christmas holiday season, a touch over three years later. From this start point as a winter ski location, it has now developed into a terrific year-round destination with many terrific activities, like mountain biking, a high ropes course (called tree adventure), stunning scenic walks and great food and drinks.
Treasuring the environment
The world increasingly demands that any development takes its commitment to the environment seriously. Nevis Range, with its own published Environmental Policy, is regularly praised as a well-managed and low-impact development. Examples of actions taken include replacing electric heating with a wood chip boiler, and the introduction of food waste composting. The friendly and helpful staff use thermal mugs rather than disposable cups.
Rise majestically to hit the heights!
Knowing that the environment is in good hands, it's time to concentrate on the many amazing activities visitors, often based just seven miles away in nearby Fort William, can enjoy. There can be no better starting point than The Gondola, a transportation system using 80 six-seater enclosed cabins that are unique throughout the UK. It helps transport skiers, bikers and walkers to the slopes, an effortless 15-minute journey from 300ft up to 2150ft on the north face of Aonach Mor itself. It's also popular with both paragliders and hang gliders. The cars can accommodate wheelchairs, and pet lovers who want to take their dog for a high hike are always welcome. Apart from the mid-November to mid-December annual maintenance shutdown, it runs throughout the year, daylight and weather conditions permitting.
What would you like to do?
Every visitor enjoys different aspects of their visit to Aonach Mor and the Nevis Range Mountain Experience. Some want to undertake a series of physical challenges, others simply to watch the world drift by as they relax at a pace that suits. Whichever you are, here are seven of the many experiences that might await you:
The Gondola journey allows you to take in breathtaking panoramic views of the Scottish Highlands whatever the season, including the Great Glen, Ben Nevis and surrounding areas. On a clear day this spectacular view can extend as far as the Inner Hebrides. The Gondola transports visitors from 100m to 650m up the mountain and takes approximately 15 minutes each way.
As host of theUCI Mountain Bike World Cup, the area is a mountain biker's paradise. From white-knuckle downhill sprints to more relaxed forest and cross-country trails, your choice can perfectly match your experience and skill levels. If your idea of cycling is much more leisurely, then more than 25 miles of forest tracks are waiting for you.
If you have a head for heights and looking for a activity that can be enjoyed by the whole family, then try one or more of the High Wire Adventure courses set on the fringes of the Leanachan Forest. For all ages, you can stay just 1.5m off the ground if you're a Squirrel, or face the Wildcat obstacles at 10m height.
If you wish to keep your feet firmly on the ground, then you might choose from those 25 miles of different forest trails, helpfully graded from easy to expert. As you progress, you might catch a glimpse of Fort William or Ben Nevis itself. Equally, if you are keen to head upwards, then the shorter Sgurr Finnisg-aig and longer Meall Beag established mountain trails are waiting. If the skies are clear, you might just catch a tantalising glimpse of the Inner Hebrides!
If paragliding or hang gliding is your thing, then a trip on The Gondola leads to take off points at 650m from both of the mountain trails mentioned above. Bookings only.
For early morning winter climbers, the Gondola departs at 8am during the snowsports season; and daily weather and avalanche reports are posted at both Gondola stations. If weather conditions prevent operation, the path up to the same point starts in the car park.
After the exertions will you choose Snowgoose or Pinemarten?
All of the activities will certainly build up an appetite, so it's lucky that you have the choice of these two terrific eateries. The Snowgoose Restaurant is found at the top station of the Gondola, where superb home cooking and fresh baking uses much local produce. Taking of which, will you tak' a wee dram? Sitting on the balcony, you can enjoy the magnificent views across Lochaber. By the way, on certain summer nights, a Ceilidh officially breaks out here. If you have never Scottish country danced in your life, the band will even explain the steps!
The Pinemarten Cafe Bar nestles at the foot of Aonach Mor, and its superb picture windows provide an airy ambience. Snacks and full meals are available, as is a view of the finish point of the World Cup downhill mountain bike track.
So much discovery awaits
Group, wedding, stag- and hen party's and other party request are also welcomed to Nevis Range Mountain Experience (bookings only). When visiting the Fort William area, with so much to offer to all, this is surely a must-visit location.
For more information check: nevisrange.co.uk